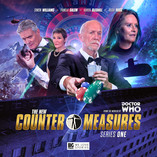 As exclusively revealed in this month's Doctor Who Magazine, we've got some updates on our New Counter-Measures series...
Counter-Measures
, Big Finish's audio spin-off from the
Doctor Who
story
Remembrance of the Daleks
, returns in December with
a new box set of full-cast adventures
.
Simon Williams
,
Pamela Salem
and
Karen Gledhill
are back as Gilmore, Dr Rachel Jensen and Allison Williams, together with
Hugh Ross
as Sir Toby Kinsella… but this time the action has shifted to the 1970s!
'The first four box sets took place during the 1960s, and were envisaged as audio adventures in black and white!' says producer
David Richardson
. 'This time we're doing audio in colour - aiming to capture the tone of those lavish ITC thrillers from the 70s, like
The Champions
and
Department S
.'
Fittingly, in
The New Counter-Measures
, the team has a new base of operations atop the Post Office Tower, as they undertake missions across the globe that threaten world peace.
Their adventures kick off with
Nothing to See Here
by
Guy Adams
, in which the team are on the trail of thieves in Switzerland - criminals who are using very dangerous technology…
'We've all wanted to be invisible,' says Guy, 'but what if the price of achieving it robbed us of who we are? To HG Wells, invisibility was nightmare food, I wanted to play with that a little. I also relished putting the wonderful, solid, dependable Ian Gilmore through the wringer because writers are absolute sadists when it comes to characters they like. Plus, you know, the idea of having a ski-chase on audio made me laugh.'
Next up is
Troubled Waters
by
Ian Potter,
which takes Gilmore, Rachel, Allison and Toby to the Azores - and a journey to the ocean floor as they attempt to find a top secret submarine that has gone missing.
Episode three is
The Phoenix Strain
by
Christopher Hatherall
, in which Londoners are subjected to lethal attacks by the bird population. 'The New Counter Measures was new territory for me and I pitched a creature-feature style story that brought a visceral terror to the streets of London,' says Christopher. 'Thankfully the creative team went with it and a story evolved around unethical science, a corrupt self-serving peer, and the poor innocents whose lives are destroyed by both.'
Finally,
A Gamble with Time
by
John Dorney
is set in Monte Carlo, where Counter-Measures has arrived in a casino, on the trail of alien hardware - only to discover that it is actually time travel technology…
'I wanted to send the team to Monte Carlo as it was the setting for the first episode of
The Persuaders
,' says John. 'And I wanted to write a strong, bad-ass villainess in the hope that
Carolyn Seymour
would play it - and happily she agreed!''
A Gamble With Time
also features a guest appearance by
Tam Williams
- the son of Simon!
The New Counter-Measures Volume 1
is out in December, and can be pre-ordered today at special prices on Download or a CD purchase which instantly unlocks a digital version. A
special bundle
collects this release with last July's feature-length special
The New Counter-Measures: Who Killed Toby Kinsella?
at a bargain price, while the previous four releases can be found
here
.
Via Big Finish