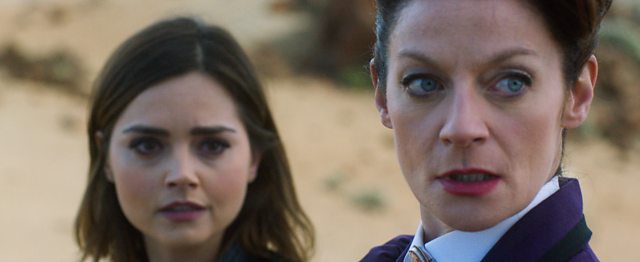 Exploding with epic and thrilling adventures, Doctor Who returns to BBC One on Saturday 19 September in the ninth series of the hit show.
The Doctor (Peter Capaldi) is joined by Clara Oswald (Jenna Coleman) for time travel on a cinematic scale. Having the time of their lives, the pair meets new and old monsters, and go on a journey that takes them to deadly alien planets, creepy underwater bases, Vikings villages, a global Zygon uprising, and leads them through hidden alien dens, to the very end of time itself.
Meeting monsters old and new the Doctor will come face to face with Missy (played by Michelle Gomez), a city of Daleks, deadly mercenaries called the Mire, terrifying ghosts and far more.
Having filmed in Cardiff since January, Peter Capaldi said, "Soaring through all of time and space, series nine sees the Doctor throw himself into life with a new hunger for adventure. The Cosmos is there for the taking, thrilling, epic and enticing, and his to play in. But he's almost reckless in his abandon. It's almost like he's running from something, something that if it ever catches him will turn his life upside down."
Previously announced and taking up a guest role in the new series will be young new talent Maisie Williams, having already achieved global success for her role as Arya Stark in the fantasy drama series Game of Thrones. Michelle Gomez (Missy) returns to plague the Doctor and Clara in the series opener, and UNIT are back with Jemma Redgrave and Ingrid Oliver (Osgood) returning to series nine following their popular entrance in series eight. Also confirmed as guest cast in the series are Rebecca Front, Rufus Hound, Paul Kaye, Joivan Wade and Sophie Stone.
The show's ninth series has been written by lead writer Steven Moffat, Toby Whithouse, Jamie Mathieson, Peter Harness, Mark Gatiss, and new writers to Doctor Who - Sarah Dollard and Catherine Tregenna; directed by Hettie Macdonald, Daniel O'Hara, Ed Bazalgette, Daniel Nettheim, Justin Molotnikov, Rachel Talalay; and produced by Tracie Simpson, Derek Ritchie, Nikki Wilson and Peter Bennett.
The star-studded cast continue to shoot in Roath Lock studios, Cardiff Bay, having previously filmed in Tenerife, and south Wales locations, Caerwent, Caerphilly Castle, Cardiff Castle, St Athans and Margam Park.
Unlocking the Secrets of the Trailer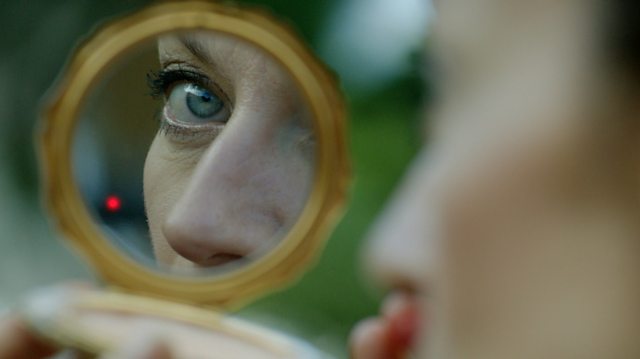 So as you may have noticed, the Series 9 Teaser trailer has been set free into the universe! But what's it all about? Who was that guy? What was that thing? Why was she standing beside her?!? We need to know! But we also need to hear what you think. Tweet us your thoughts – the crazier and more creative the better! We're at @bbcdoctorwho and would love to hear from you!
So… that was 90 seconds of high octane Doctor Who-ness that we loved! But what's it all about?
First up – the Doctor looks more chilled, doesn't he? Cool shades, big smiles, huge hug for Clara and wanting to kiss something to death. And he's rocking that guitar! Can't wait to see him on Saturday, 19 September: the day the Doctor returns to BBC One!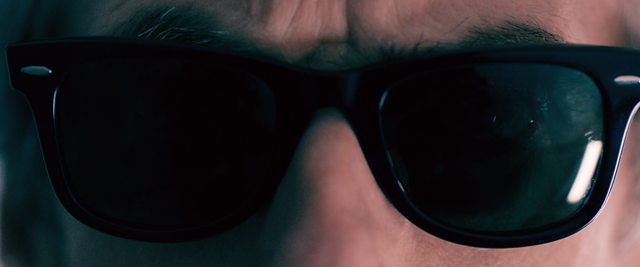 Clara looks to have been thrown right into the thick of the action again. What do we think she's hiding from?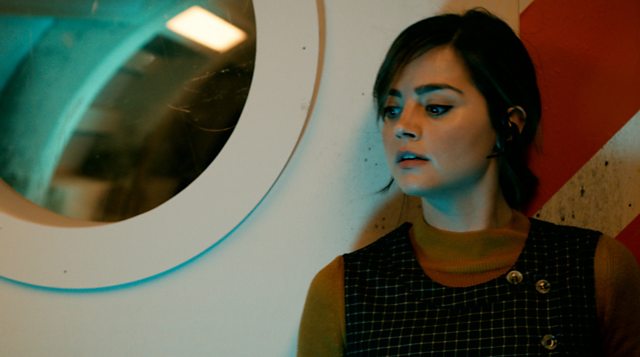 And the orange spacesuits are back! We reckon right now she's wondering, 'Exactly how bad can it get?!?'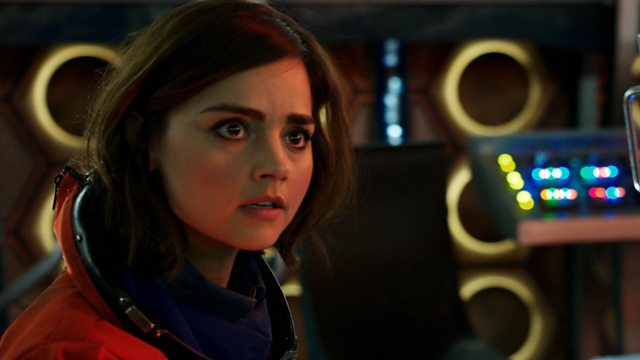 LOTS of new monsters, with some crazy new faces – or even two-faces…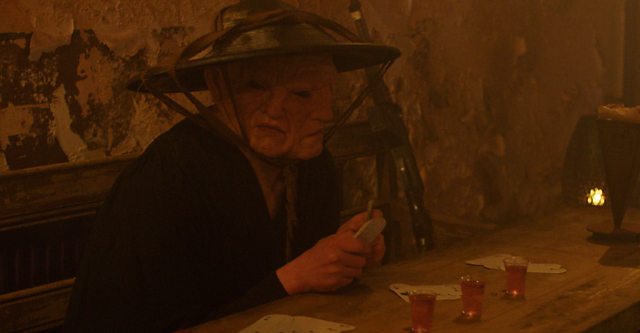 And a scary looking guy with a sinister face, black hat and a purposeful walk. A walk that suggests he's up to no good and he's up to it with some urgency.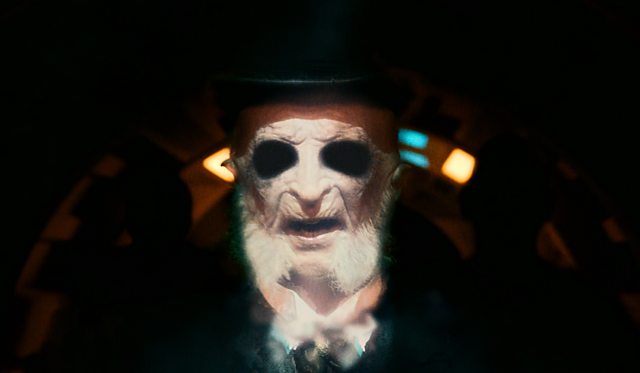 And check out the – ahem – unusual looking figure the Doctor comes face-to-face with. We're also curious about this guy. How does he fit in with the new series?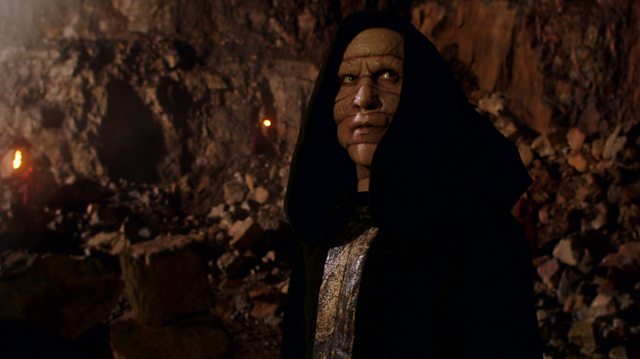 The Daleks are back! The Doctor's oldest and most iconic enemies glide back into his life but which episode(s) do you think they'll be sticking their eyestalks into? And perhaps more importantly, What's behind it? Yeah, looks like it's a… Which is curious!
We love the cinematic scale of the trailer… Doctor Who has always been big, but now it's in a different dimension!!!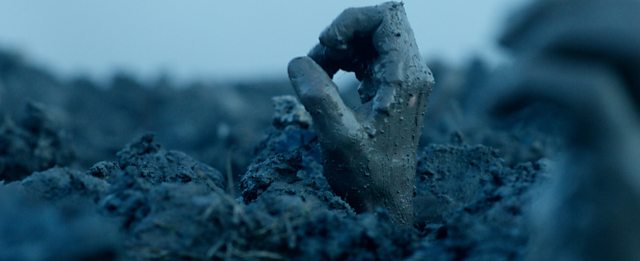 We already knew that Missy was returning but it looks like she's facing-off with Clara. Given that the self-proclaimed 'Queen of Evil' was responsible for the death of Clara's boyfriend we'd like to be a fly on the wall for that showdown. Actually. We can be! Saturday, 19 September… Did we mention that?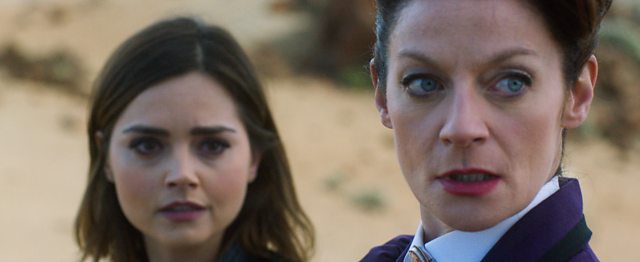 And on the subject of the Doctor's 'best enemy', is that fear we can see in her eyes? And if so, what on Earth – or wherever – can scare Missy?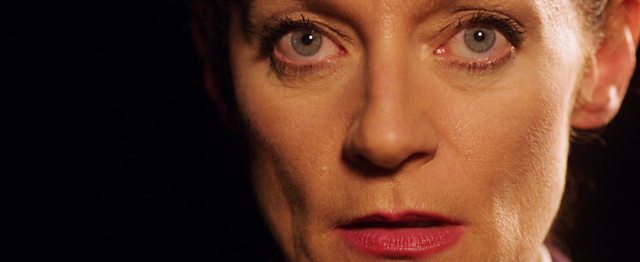 Just in case the Zygons weren't evil enough (in the past they've tried to steal our planet and they were very mean to Clara) they're now picking on small children. Thank goodness Osgood will be there for their adventure, but hold on… No Osgood in the trailer. Could that be significant?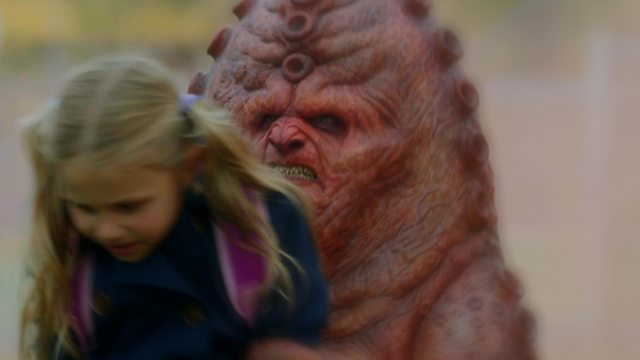 Those two lines from the Doctor were interesting. 'I'm the Doctor and I save people!' should be on his business card but we're much more intrigued by his opening words: 'Every time I think it couldn't get any more extraordinary it surprises me. It's impossible, I hate it, it's evil, it's astonishing… I want to kiss it to death!' Who or what is the Time Lord talking about? Answers and ideas to the usual twitter address, please…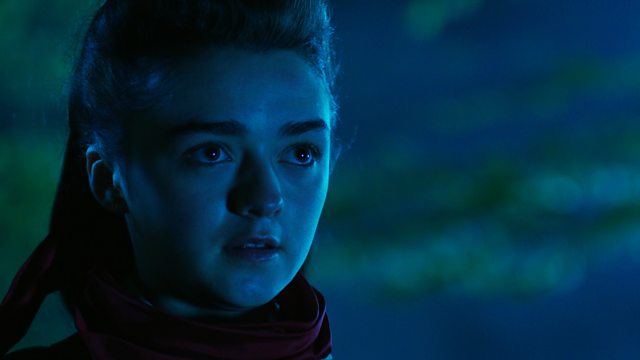 And finally, it's Game of Thrones star, Maisie Williams! *Applause* Sometimes on a trailer you get a must-watch-again-immediately moment and this is another one of those. There's just something intriguing and exciting with this exchange… What do you think the deal is with Maisie's character and the Doctor?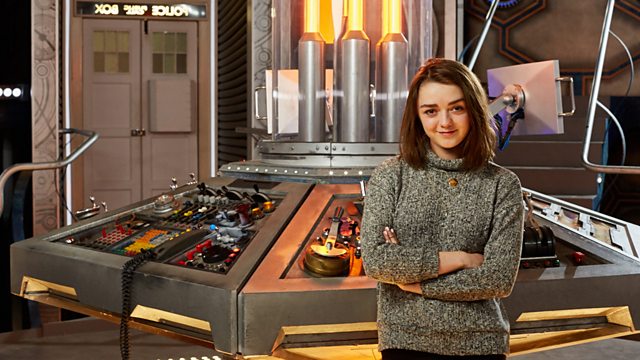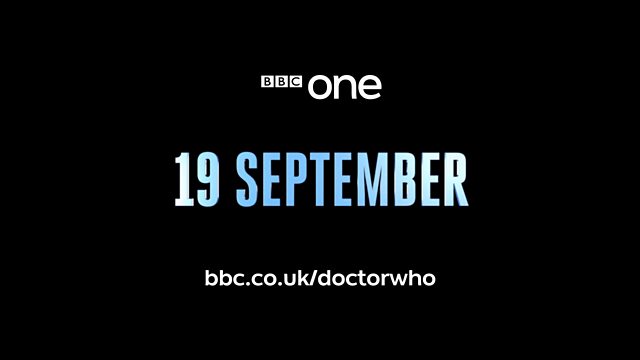 Doctor Who has had a decade of success and is one BBC One's most highly regarded shows. The much-loved brand is already a phenomenon delivering on a global scale, with the last series' (series 8) consolidated average at 7.4 million.
Doctor Who is a BBC Cymru Wales production for BBC One and will be back on-air this September.
Details and images via the BBC